I love my kitchen… which is a good thing, because (although I profess to keep my cooking simple) I spend much of my time there.  I love my girl-on-a-budget Ikea cabinets, my funky tile and my Ubatuba granite counters (Good word Ubatuba).  Having said that, it has one teeny problem.  It is located at one end of our house, and the living and family rooms are at the other end.  Not that our house is particularly huge, but still it's impossible to cook and be part of a gathering at the same time.  And I hate to miss a thing when friends come around.
Because of this, when we host a dinner, I tend to serve things that are completely ready before the guests arrive. So lots of roasted things and one-pot meals are often on the menu at House Morell.
At the moment, my favorite roasted dish is called Eight-Hour Lamb with Feta from the amazing cookbook (and blog of the same name)  "What Katie Ate."   I would like to eat everything that Katie ate please.  Everything.  I believe this is hands-down the most stunning collection of food photography, oh I mean cookbook, I have ever owned.  My dear iPhone/Instagram blog photos are so humbled by this greatness…sigh.  It's hard to articulate how gorgeous these food photographs are…you really must find a copy of the book and see for yourself.  And I need to get myself to a serious photography class.  Stat.
The thing is, the recipes are brilliant as well. Honestly, I've cooked and served nearly a dozen recipes from this book and all have been delicious.  But none quite as popular as this one.  You might wonder: Eight hours?  Isn't that a bit excessive?  Won't the lamb be torched beyond recognition?  Let me assure you, the answer is no.  Eight hours turns the lamb into a succulent wonder, so tender and silky that it falls off the bone. It melts in your mouth. There are never, ever any leftovers when the lamb served.
Not that I need any excuse, but I do love to stop by my favorite local butcher – the Organic Butcher of McLean – to pick up the leg.
This wonderful little shop is modeled after a traditional English Butcher… (There she goes again, wandering nostalgically back to England)
The staff at the Organic Butcher couldn't be more helpful, and the meat is fantastic.  It's actually inspiring me to try a few new items (more on that another day…)
One of the many wonderful things about this dish is that the leg of lamb, while cooking for eight hours, fills the house with the smells of garlic, lemon, and rosemary.
Eventually, I'll wander back to the kitchen to prepare the tangy herb and lemon dressing that is tossed over the warm meat.  This wonderful combination of parsley, basil and mint pulsed with some lemon, capers, dijon, sherry vinegar and olive oil elevates the dish (Note:  When Katie ate it, she added anchovies to the mix, but House Morell is an anchovy-free zone when M is around).
When the lamb comes out of the oven, let it cool a bit, shred it, toss the lovely dressing over it, and sprinkle the whole plate with feta and lemon wedges.  Though my photography can't do it justice the way Katie can, I suspect as usual there won't be any leftovers…
Eight-Hour Lamb with Feta
adapted – just barely – from What Katie Ate by Katie Quinn Davies
Ingredients:
4 onions, cut into quarters
2 bunches rosemary
5-6 pound leg of lamb
2 bulbs garlic
12 cloves garlic, peeled and cut in half lengthwise
1 cup white wine
sea salt and freshly ground black pepper
Herb and Lemon Dressing
large handful fresh basil
large handful fresh italian parsley
large handful fresh mint
1 Tablespoon dijon mustard
1 Tablespoon sherry vinegar
1 Tablespoon salted capers, with a bit of juice
juice and zest of one lemon
1/2 cup olive oil (add more if needed)
To garnish:
1 cup crumbled feta cheese
lemon wedges and lemon zest
Directions:
Toss the onion and garlic halves with the cut side up on the bottom of a roasting pan and scatter one bunch of rosemary sprigs over them. Pour one cup of white wine into the bottom of the pan.
Place the leg of lamb on top and pour a glug or two of olive oil over the lamb. Cut 12 slits into the lamb and push two garlic halves into each slit along with some rosemary sprigs. Season generously with salt and pepper and drizzle with a little more oil. Cover loosely with foil, tucking it in around the inside of the pan.
Roast at 300 degrees F. for 8 hours, checking occasionally, adding a splash of water or more white wine if it is looking dry. Remove from oven and let rest for 20 minutes before shredding the meat; it should easily fall from the bone.
Dressing: Place the herbs, mustard, vinegar, capers, lemon juice and zest and olive oil in a food processor and process until a paste forms. Add oil as needed. The consistency should be a little runnier than a pesto.
Arrange the lamb and crumbled feta on a platter and drizzle over the dressing. Serve with lemon wedges and sprinkle with lemon zest.
I have served this dish with mashed potatoes in the winter or this lovely Israeli Couscous Salad in the spring and summer
This seemed a perfect recipe to share on the Cooking with Herbs Challenge: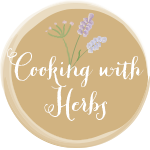 Like this post?  Please be sure to follow me via Email on the blog's main page.  You may also follow me on Bloglovin, Instagram, Pinterest, Twitter.