I was wandering the aisles of my local Trader Joe's the other day, and came across a sure sign of spring – a little bag of fresh peas.  Yum!  Into the cart they went.  Then I set about to find the perfect recipe to showcase these babies… and, oh my, did I find it.
In previous posts, I have carried on about What Katie Ate – a persistent source of inspiration.  She features a lovely "Fregola salad with bacon, baby peas and preserved lemon."  Last summer, I spent days trying to figure out what on earth fregola is and hunting for it in local markets. Turns out it's a type of pasta from Sardinia – very similar to Israeli couscous.  I have yet to find fregola in the DC area, but Israeli couscous is readily available.
So, I set about to tweak Katie's recipe a bit to suit my spring tastes (and things in my cupboard… no preserved lemons in sight).  Pancetta instead of bacon, some sautéed onions and red peppers, no thanks on the cucumber… lots of lemon juice and grated lemon peel.  I had hoped to add goat cheese, but feta was in the fridge, and it worked perfectly.  The troops returned from Eastern Europe this morning, and my husband inhaled two bowls of the stuff for lunch.  He said it was the best salad I have ever made… high praise indeed.
So I offer you this taste of spring in a bowl… and am sharing it this Fiesta Friday… I hope you enjoy it as much as Michael did.
This will also be this month's entry into my first Cooking With Herbs Challenge from the wonderful Lavender and Lovage Blog – hopefully the first of many!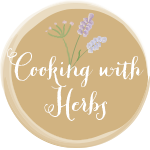 Spring Salad of Israeli Couscous, Peas, Pancetta, and Lemon
Ingredients
1 cup Israeli couscous or fregola
2 teaspoons olive oil plus one teaspoon butter
4 cups vegetable broth or water
8 ounces pancetta, finely chopped
1 medium onion, chopped into bite-sized pieces
1 red pepper, chopped into bite-sized pieces
2 cups fresh peas
the grated rind and juice of two lemons
2 heaping tablespoons fresh chopped parsley
2 heaping tablespoons fresh chopped mint
1 cup feta (or goat) cheese, crumbled
1 cup toasted almonds
freshly ground pepper
salt
Instructions
Heat two teaspoons olive oil in a heavy nonstick saucepan. Add couscous and stir to coat. Toast couscous, stirring constantly, until lightly browned, about 2 minutes. Add broth or water and bring to a boil. Reduce heat to gentle boil, cover and continue cooking, stirring occasionally, until most of the liquid has been absorbed and pasta is soft to the bite. Set aside.
Heat one teaspoon olive oil in a skillet. Add the pancetta and brown until crisp, about 7 minutes. Remove from the skillet, and toss into the couscous. Add the onions and red peppers and saute until the onions are translucent, about 10 minutes. Remove from heat and toss into the couscous.
Bring a pot of water to boiling. Add the peas and cook for about 90 seconds. Drain, and toss into the couscous mixture. Stir the lemon juice, lemon peel, parsley, mint, almonds and feta into the mixture, and sprinkle generously with salt and pepper.
Serve warm or at room temperature.